RO Service Near Me Delhi By Professionals
RO Service Near Me Delhi By professionals at your doorstep for all brands of RO water purifiers. Great service is guaranteed. We have provided fast service at a reasonable cost, and if after service you face any problem with your RO, please call us for free service. It's valid for one week. We always used genuine spare parts with a two-month warranty. Call now for RO services near me Delhi at 9211627332
Routine Service in Delhi
Change the pre-filter in your RO after three months of service in Delhi. The pre-filter is a very important part of the RO. It protects the filter mounted inside the RO from dust.If you replace the pre-filter once every three months, your RO long-term will operate constantly. By doing this, the electrical parts of the RO also work better, and the quality of the water also remains better. Call us for routine service now at 9211627332.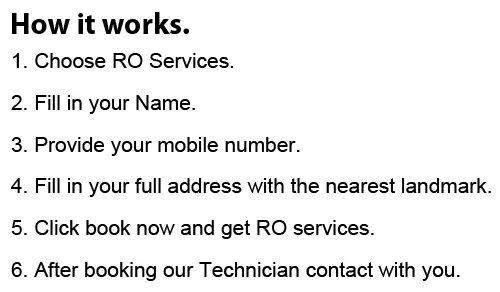 RO Repair In Delhi
RO repair in Delhi by our best technicians at your door step within 90 minutes only Contact us for RO electronics parts repair. Faults occur in various types of electronic parts inside the RO. Following are the different types of electrical parts of RO.
| # | RO Repair Near Me Delhi | Price |
| --- | --- | --- |
| 1 | RO Pump Repair in Delhi | Rs. 1800.00 |
| 2 | RO Adeptor Repair in Delhi | Rs. 850.00 |
| 3 | RO Solenoid Valve Repair in Delhi | Rs. 550.00 |
| 4 | RO Auto Cut Repair in Delhi | Rs. 200.00 |
| 5 | RO UV Repair in Delhi | Rs. 350.00 |
| 6 | RO SMPS Repair in Delhi | Rs. 550.00 |
Get all the above parts repaired and get a six-month warranty* absolutely free of charge. Call now at 9211627332.
Complete RO Service in Delhi
A complete RO service is needed after one year and every year because all filters are dirty and membranes are not working properly. Due to not changing the filter for a long time, waste water comes out in large quantities and pure water comes out in smaller quantities. In a complete RO service, it is necessary to change the membrane, sediment filter, carbon filter, prefilter, and FR. By changing these filters every year, the efficiency of the electrical parts of the RO increases, and water is available in plenty and in good condition.